There was a violent attack at the Palace of Westminster in which several people were killed. At this time, the information about the attack is quite limited and to call it a "terrorist" attack is not yet justified on the basis of the information that has been substantiated.  Nonetheless, the violence will be incorporated into the ongoing discussions about how liberal societies should address the issue of terror.  The Guardian ran an editorial on the basis of the preliminary news report of the attack which was quite insightful, and the editorial concludes in this manner:
"Today's attack has long been anticipated. It is not an act of war. It must not be allowed to divide us one from the other. Terror's purpose is to spread hate and division. The first protection against it must be solidarity."
Those words should be taken to heart.  But there are contrary views to this approach, and John Gray has written an essay for the New Statesman which argues for a more robust policy toward terrorism.  The essay places the issue of terrorism within the framework of a Hobbesian world.  While I have reservations about Gray's position, his argument is strong and deserves careful attention.
Turkish President Erdogan escalated his sharp rhetoric against Germany and the Netherlands for their refusal to allow Turks to enter their countries to speak in favor of a proposed referendum in Turkey to expand the powers of the President.  Erdogan is reported to have said that "Europeans across the world will not be able to walk the streets safely if they keep up their current attitude towards Turkey."  Erdogan has referred to the European measures as comparable to "Nazi" tactics, a charge that has caused considerable resentment in Germany.  But the image below suggests how rancorous the dispute has become.
A Turkish tabloid depiction of Angela Merkel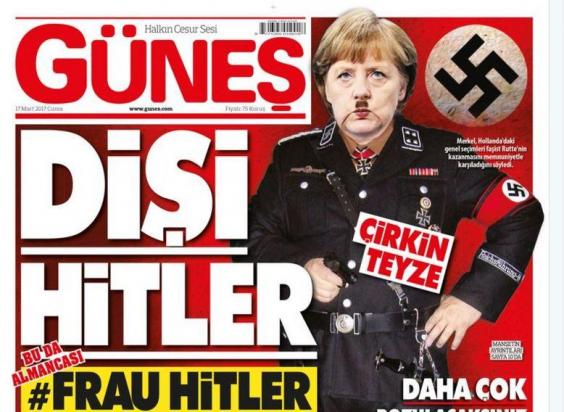 Daniel Twining works for the German Marshall Fund of the United States and he has written an essay on the danger of abandoning the liberal international order that has been in place since 1945.  Twining's concern is that in the absence of the liberal order the world will revert back to a "spheres-of-influence" framework that characterized the 19th century world order.  The argument is persuasive and well-documented.