As Russian-Turkish relations go through yet another difficult phase, Ishaan Tharoor has written a short essay on the history of those relations.  Needless to say, the relations of close neighbors is often quite difficult, but the tension between the emerging Russian Empire and the declining Ottoman Empire in the 19th century was deep and enduring.  The struggle was over control of the Bosporus and the Black Sea, but was also amplified by the religious tension between the Muslim Ottomans and the Eastern Orthodox Russians.  Somehow, those tensions have never gone away.
Surprisingly, US-Russian tensions have undergone a dramatic transformation.  Yochi Dreazen has written an essay for Vox on the troubling questions surrounding the Russian role in the US presidential election and what it suggests about President-elect Trump's relations with Russian President Putin.  In the article, Dreazen posts an interesting graph which suggests that Republicans now have a more positive view of Vladimir Putin, a massive change from the traditional Republican view of Russia.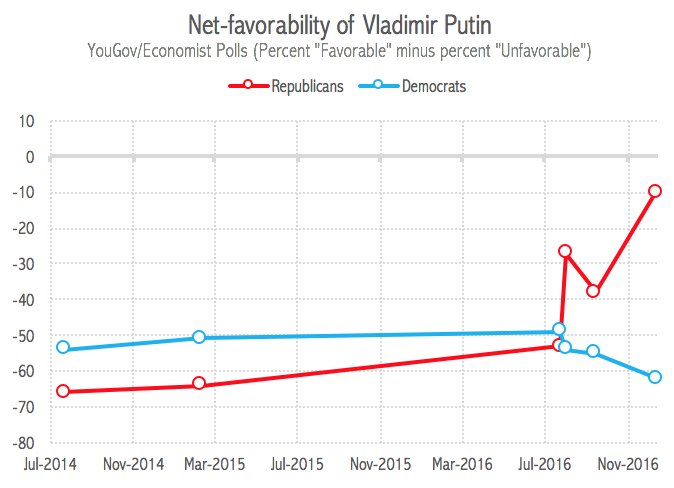 The carnage in Berlin caused by a truck driven into a crowded Christmas market is causing havoc in the German political system.  Chancellor Merkel addressed the German people in terms that suggested that Germany needs to adhere steadfastly to its liberal values.  But other politicians are suggesting that German politics needs to change dramatically.  Horst Seehofer, the head of the Christian Social Union, the party allied with Merkel's Christian Democrats, made an ominous speech after the tragedy:  "We owe it to the victims, their families and the entire populace to rethink and readjust our entire immigration and security policies."  It is difficult to predict the direction of German politics in the near term.