We live in a period of extraordinary transition as we move from the industrial age to the digital age.  Unfortunately, those who are living in the period of transformation are often unaware of what is actually happening as we try to live in a familiar world even as the topography of that world requires a new and completely perspective.  The Economist has an article of how this transition is affecting German manufacturing.  The Germans have distinguished themselves as one of the giants of the manufacturing world.  But the challenges of digitization will require a complete rethinking of what it means to produce for consumers who think about objects in a completely different way.
The tenor of political rhetoric surrounding the issue of Syrian refugees coming to the US has sunk to a reprehensible level, with one of the Republican candidates comparing the refugees to "rabid dogs".   I wish that I could say that such rhetoric is an aberration in American politics, but, unfortunately, it is closer to the norm.   As I have indicated in an earlier blog post, Americans were strongly against admitting Jewish refugees in 1938.  The Washington Post ran that article, and it has posted a follow-up article which relates reader responses to the first post.  The fears of a helpless population are unworthy of a great nation.  We should remember the ill-fated voyage of the SS St. Louis and how the Jewish refugees on board were turned away from the US in 1939.
The temperature of the Eastern Pacific Ocean off the coast of South America has increased by 3 degrees Centigrade–the highest level ever recorded since records started being kept in 1990.  The reading suggests that this year's el Niño might be the strongest we've ever seen.  According to The Guardian, el Niño can "cause droughts, heatwaves and fires in south-east Asia and Australia, while on the eastern edge of the Pacific, it may trigger warmer, wetter weather and flooding."  It might be an interesting winter.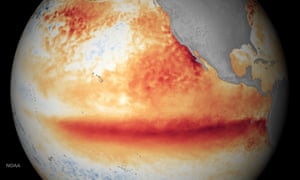 This image from NOAA shows the satellite sea surface temperature for the month of October 2015, where orange-red colors are above normal temperatures and are indicative of El Niño. Photograph: AFP/Getty Images