Enough Senators have come out in favor of the Iranian nuclear deal to assure that the US Congress will not be able to scuttle the deal.  The news assures US President Obama of a significant political and diplomatic victory, and also assures that the US will be able to keep its promises to its allies:  Britain, France, and Germany.  It also suggests a new and still undefined relationship to Israel.  US support for Israel was never really in question; the only question was whether the deal improved or degraded Israel's security.  But the evidence suggests that the defining moment in the minds of many Senators was House Majority Leader Boehner's decision to invite Israeli Prime Minister Netanyahu to address Congress without first consulting with President Obama.  The move implicitly raised the question of whether a vote against the deal was a vote for American or Israeli national interest.
In what can only be described as a macabre situation, Czech police are reportedly taking refugees off trains bound for Germany and writing numbers on their arms in ink.  The parallel to the treatment of Jews in the 1930s is striking, but appears to have been not fully appreciated by Czech authorities.  No one disputes that the handling of such a large number of desperate people must be orderly, but European authorities seem unwilling to devise plans to treat the refugees in a more effective and humane manner.  The treatment of refugees is outlined in the Convention relating to the Status of Refugees adopted on 28 July 1951 by the UN and signed by all the European states.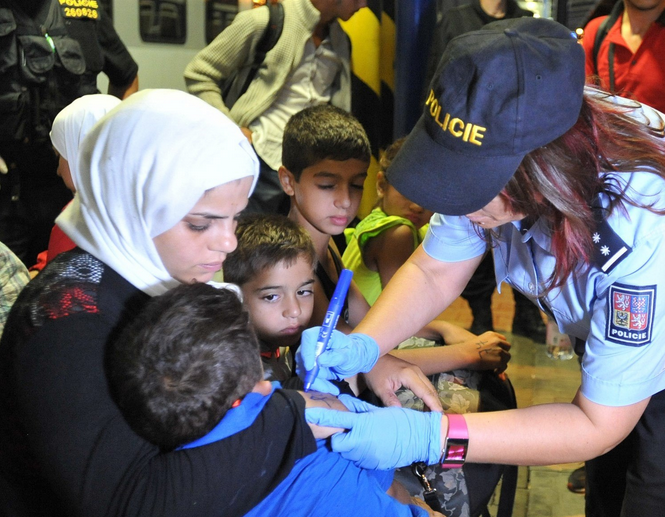 Those refugees who had been stranded in the train station in Hungary have set off on foot to walk to Vienna.  The desperation of the refugees is matched only by their determination.  Fortunately, it appears as if Hungary is backing down from its refusal to allow the refugees to pass through.  We should remember that Steve Jobs was the child of a Syrian migrant to the US who came in 1954.